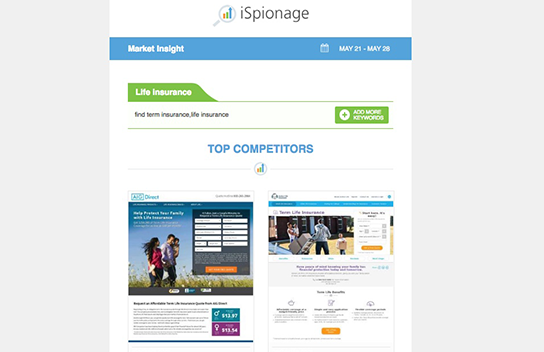 Benchmark your SEM performance against competitors and industry leaders. Clearly view market share, keyword rankings and more to track your progress
See your competitors' keyword strategies, PPC ads and landing pages to recreate the exact pathway they're using to generate leads and paid conversions.
See the results of your competitor's A/B testing on PPC campaigns to swipe successful ad copy without spending your budget on testing.
Create a customized landing page gallery featuring your closest competitors. Monitor it regularly to see exactly what they're doing to generate leads and sales.
View competitive landing pages side-by-side to analyze messaging and promotional oppor- tunities. Get automatic updates when your competitors update or add landing pages.
Your competitors' marketing activity delivered to you weekly, via email. See the info that you need to keep up with your competitors, summarized and actionable.
Check out how your paid search ads looked on Google for each day of the month. Available for both desktop and mobile.